"Give me an example" I said quietly. "Of something that means something. In your opinion."
There are books, plays, films that we read or watch and get to know, and then there are characters that you stumble across and already know. Some will remind us of our nemesis; some will remind us of our idols; yet some, may even remind us of ourselves.
With it's changing seasons and complex characters, Breakfast at Tiffany's is a complete winner for me. It epitomises late 1940's New York, speaks of their spontaneous lifestyles and focuses on Truman Capote's determination to get his work published (through the autobiographical narrator of Paul Varjak). This enthusiasm and desire to be a successful writer is a trait that I share, thus Capote's novel became the muse for my blog.
On Wednesday night I attended the "Breakfast at Tiffany's" play at Leeds Grand Theatre. Pixie Lott played a convincing Holly Golightly alongside a wonderful cast - one of my favourite characters being Joe Bell with his "downtown nu-yowk" accent.
The interchangeable sets evoked a palpable lifestyle; relationships between the characters elevated the authenticity of the book; Paul Varjak's voice-overs embodied Truman Capote's youth.
As much as I adore the iconic Breakfast at Tiffany's film starring another of my idols, Audrey Hepburn, the film isn't so true to the book. With its classic Hollywood charm, Holly Golightly has become renowned as the founder of the elegant black evening dress and dazzling pearls; the consumer of the steaming coffee and brown paper-bag pastry; the admirer of all things "darling" about Tiffany's.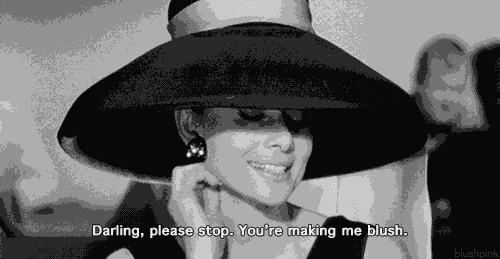 For each individual, there is a book; a quote; a series of words that will be the making of them. I urge you to set aside time - away from revision, work or daily stresses - to indulge your mind in somebody else's thoughts.
And in the words of my hero, Paul Varjak, I dream of becoming "the writer I want to be".