"...the last days, blow about in memory, hazy, autumnal, as alike as leaves: until a day unlike any other I've ever lived..."
As I approach a year since starting my blog, I would like to dedicate this post to those that have faced suffering. This week has been one of mourning across the world; as we remembered those who have fought for our country on the 11th, and of course, of the victims of the Paris attacks.
Pray for Paris
Although devastation has swept across Europe during the shocking attacks made on Paris, French President Francois Hollande declared, France will remain "determined, unified and pulled together".
We have seen patriotism in crowds during moments of silence; resilience when buildings were illuminated in the nation's colours; and compassion when allies of France have pledged to help.
The Paris attacks have certainly changed our outlook.
Why do we care so deeply?
Terrorists may have taken away loved ones, but they cannot diminish the love for this city. Paris should not be defined by these attacks, but instead by it's utterly enchanting ambience.
Paris is unique. The city does not follow trends, yet sets them. As the rest of the world waved au revoir to "les cigarettes, l'alcool et la couture cher" they "threw open the windows and let in la vie en rose".
Endless cobbled streets, endless historic monuments and endless artists to paint it all... It's a city distinguishable from the rest and one can't help but stereotype some iconic elements with Paris; whether it be the Eiffle Tower, the edible snails or the garlic garlands strung around their necks!
I think of Paris and I cant help associate Audrey Hepburn with it. Perhaps it's because her Parisian demeanour landed her role as Gigi, or perhaps it's due to her part in Funny Face filmed in Paris, or possibly even her relationship with French designer Givenchy.
J'adore the Parisian cuisine... Perhaps not the snails, but the simplicity of a hunk of warm baguette accompanied by cheese and wine est parfait! Or a café au lait et un croissant at a table dans le rue.
Ahh, but the language... The intensity combined with the passion yet also the seductiveness of their dialect...
No wonder so many women are allured by romantic whisperings across the table in French themed films!
The city of love has truly lived up to that reputation in the past few days.
Frankly, Paris est Paris. It's the heart of France. It's irreplaceable.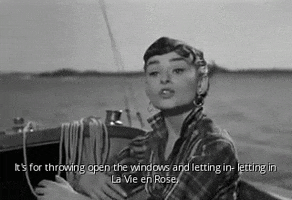 "When the power of love is greater than the love for power, the world will know peace"